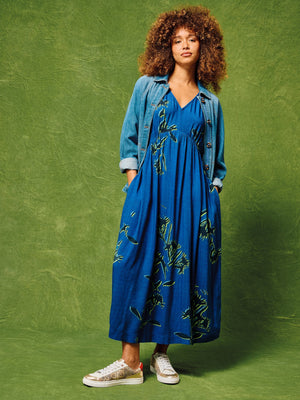 WHITE STUFF
---
White Stuff started life in 1985. Our ski-loving founders, George and Sean, had the idea of selling T-shirts to fund their stays in the French Alps (the "white stuff" is snow, in case you were wondering). Six years later, they opened a shop in Battersea, South London -- the first of more than a hundred across the UK and Germany. White Stuff style has evolved over the years but the ethos behind it has stayed consistent.
It's not just about selling clothes. It's about putting in the effort so that the things we make are built to last, and feel special enough to wear season after season. And we try to do the right thing by the planet and its people. To not take too much and to give a little back. We're committed to using lower impact materials and processes to make our clothes. And we monitor our supply chains to make sure that everyone is treated fairly. We know there's much more to be done. And we're always trying to be better.
Life would be dull if we all looked the same. And if we all stayed the same. Which is why we're switching things up with our new collections. It's nothing drastic. We're still all about thoughtfully designed, well-made clothes. We're still obsessed with unique details, beautiful prints, and unexpected colour combos. We still stand up for independent spirits and self-expression and do good stuff wherever we can. We're just trying some new stuff. New designs. New twists on old favorites. New materials that have a little less impact on the planet. And we've got a new logo (nice, isn't it?).