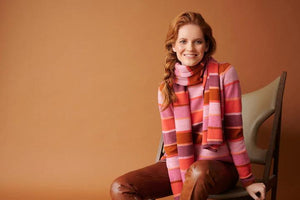 Manstead
---
About Mansted
Mansted is a  knitwear collection designed and developed by Charlotte Mansted.
Charlottes's vision  is to create every woman's favourite knitwear, that goes well beyond season and trends, and we will be most happy when it is totally worn out !

It takes knowledge
It takes a bit of knowledge to fully appreciate Mansted knits. For instance notice the little fully fashion marks at the armhole showing that it is knit piece by piece and not cut from a roll of fabric. this gives an excellent opportunity to make unique details and pieces, only possible in knitwear, and still at affordable prices.